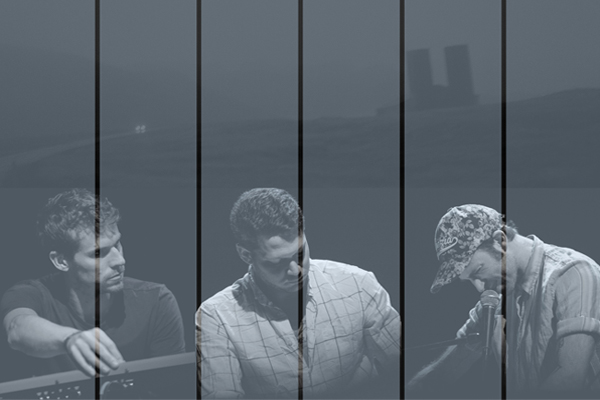 Doors at 7 PM / Sets at 7:30, 8, 9; no one turned away for lack of funds.
An evening of abstract sentimental music (for lovers and loners alike) featuring work for harp, voice, piano, electronics, live foley and tape collage.
Sontag Shogun is a collaborative electroacoustic piano trio from Montreal and New York City (Ian Temple, piano; Jeremy Young, tapes/oscillators/amplified surfaces/objects; Jesse Perlstein, voice/field recordings/electronic treatments). They'll perform new works from a forthcoming LP due out in March, folded into improvisations for 1/4″ tape, treated vocals and sine waves, and of course solo piano. Their sound sits in between the emotive solitude of Nils Frahm and the immersive "maximal-ambient" intensity of Tim Hecker and Ben Frost, but with live electroacoustic processing and performed foley tactics, no sampling and no synths. All of which combines nostalgically to depict abstract places in our memory, bringing us back, like a faded passing scent or any emotive trigger, but to where? The wordless journey there will inevitably be more revealing than the destination itself. This is Sontag Shogun's first official tour of the West Coast.
Dolphin Midwives is Portland-based Sage Elaine Fisher is echo jungle chaos magic moon milk ocean murmurating orchid sleeper holy hands/helping hands interface nodes/architecture/lace gravity doesn't exist change the laws of physics levitation shapeshift/shadow energy density clarity prismic sound microtonal vision quest whirling rainbow vortex portal opening reverberating witch sister who plays harp/zither/voice/noise/electronics and everyday objects.
Blessed Blood is an electronics-based project by Seattle's Rachel LeBlanc. Utilizing hardware effects to expand upon the natural resonances of singing, she processes harmonies into ecstatic hymns, wherein ethereal vocals glide above pulsations and sharp angles. The sound is informed by the artist's life-long home of the PNW, traditional music forms and choral assemblies, and the exploration of history both personal and cultural, resulting in what is at once familiar and unsettling.