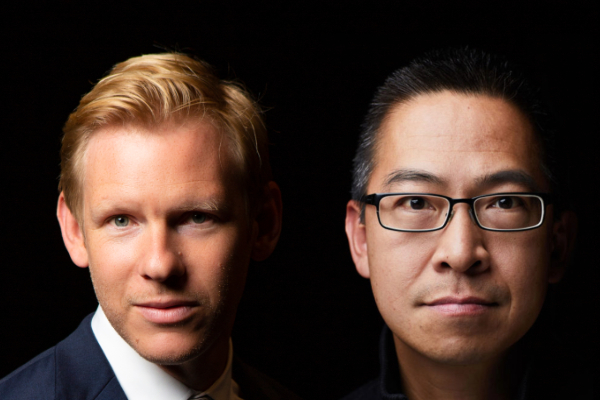 After 16 years of musical collaboration, drummer Ted Poor and trumpeter Cuong Vu come together in a rare duet setting to celebrate new beginnings.
Ted joined Cuong's band in the Spring of 2003 and the two have been making music together ever since. They have made numerous records together and toured the world over. The tables are now turned, with Ted supplying the repertoire and driving the initial aesthetic. This concert will surely be a celebration of space, groove, melody and resonance.
Ted Poor is a Seattle-based drummer whose adventurous, soulful playing has vaulted him to the stages of some of today's most important musicians and placed him amongst those drummers most in demand. After graduating from the Eastman School of Music in 2003, Ted moved from his hometown of Rochester, NY to New York City where he quickly made a deep impression on its jazz and indie-rock music communities. In his ten years in NYC Ted appeared on dozens of recordings and shared the stage with many world renowned artists such as Bill Frisell, Pat Metheny, Kurt Rosenwinkel, Cuong Vu, Ben Monder, Myra Melford, Mark Turner, Gabriel Kahane, My Brightest Diamond, Aaron Parks, and Ralph Alessi.
Now a resident of Seattle, Ted has joined the band of Los Angeles based singer/song-writer Andrew Bird; appearing on and touring the albums Are You Serious and My Finest Work Yet (Loma Vista/Concord). As his presence in the Los Angeles music community has grown, Ted has collaborated with producers and artists such as Michel Froom, Blake Mills, Tony Berg and Madison Cunningham – appearing on Cunningham's recent release Who Are You Now (Verve). Ted also performs regularly on the live radio broadcast of Live From Here with Chris Thile.
In the fall of 2018, Ted signed with record label New Deal (Verve/Universal) and is currently finishing his debut release You Already Know, a collaboration with saxophonist Andrew D'Angelo and producer Blake Mills. Ted is currently an Assistant Professor of Jazz Studies at the University of Washington in Seattle. Ted endorses C&C Drums.
Cuong Vu is widely recognized by jazz critics as a leader of a generation of innovative musicians. A truly unique musical voice, Cuong has lent his trumpet playing talents to a wide range of artists including Pat Metheny, Laurie Anderson, David Bowie, Dave Douglas, Myra Melford, Cibo Matto, and Mitchell Froom.
As a youngster, Cuong's intense dedication and love for music led him to a full scholarship at New England Conservatory of Music where he received his Bachelor of Music in Jazz studies with a distinction in performance. Transitioning from his studies in Boston, he moved to New York in 1994 and began his career actively leading various groups while touring extensively throughout the world. As a leader, Cuong has released eight recordings, each making critics' lists of the 10 best recordings of their respective years. Each record displays how he has carved out a distinctive sonic territory on the trumpet, blurring all stylistic borders while developing his own compositional aesthetic.
A recipient of numerous awards and honors, Cuong was awarded the Colbert Award for Excellence: The Downtown Arts Project Emerging Artist Award. Currently an associate professor in jazz studies, he was awarded the University of Washington's prestigious Distinguished Teacher Award in his third year on faculty and is a Donald E. Petersen Endowed Professor.
In 2002 and 2006, Cuong was a recipient of the Grammy for Best Contemporary Jazz Album as a member of the Pat Metheny Group. He's been recognized as one of the top 50 young Jazz Artists in an article called "The New Masters" from the British magazine, "Classic CD" and in 2006 was named the Best International Jazz Artist by the Italian Jazz Critics' Society. Amazon listed Vu's Come Play With Me on their "The 100 Greatest Jazz Albums of All Time". Cuong is a Yamaha Performing Artist, playing the Yamaha Custom YTR8310Z trumpet.
(photos: Ted Poor by Piper Hanson; Cuong Vu by Steve Korn)