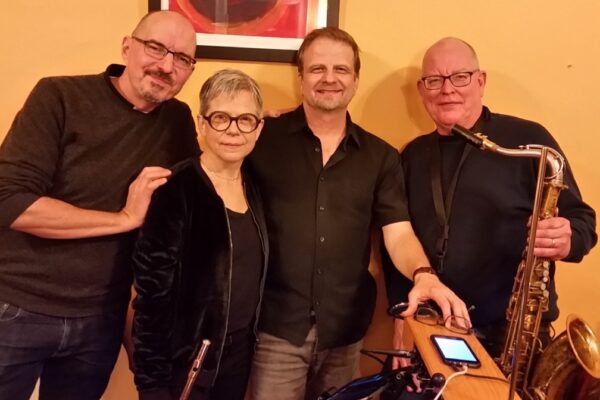 Triptet is a meeting of minds and spontaneous electrical impulses between Michael Monhart (saxophones and percussion), Tom Baker (guitars and effects), and Greg Campbell (percussion and cheap electronics). Amsterdam-based Anne La Berge's passion for the extremes in both composed and improvised music has led her to storytelling and sound art as her sources of musical inspiration. Her music gathers the elements on which her reputation is based: ferocious and far-reaching virtuosity, microtonal textures and melodies, and her unique array of percussive flute techniques, all combined with interactive electronic processing and text.
This show will bring together these musicians in various groupings and as a quartet for an evening of sound and recalibration for returning to this new, strange world in which we find ourselves. It was January 10, 2020 when Triptet did their last live show, which also included Anne La Berge, and was also at the Chapel Performance Space. It is only appropriate our next live show will again be with Anne at the Chapel.
COVID-19 PROTOCOLS: Following the current mandate from WA State public health officials, all audience members at this performance will be required to wear masks regardless of vaccination status. Additionally, seating will be arranged to maintain social distancing; people who live together may group chairs accordingly. Audience should be aware that some performers will be playing wind instruments.