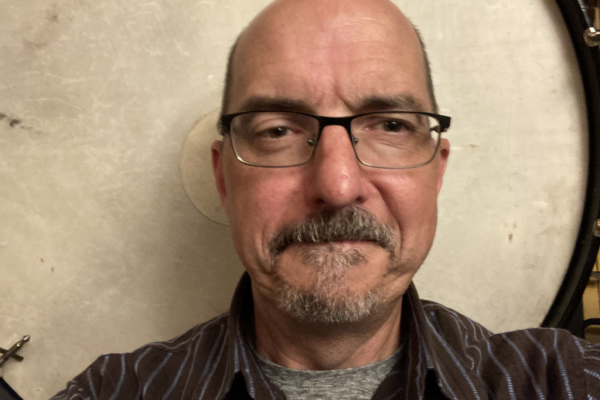 Greg Campbell plays drums, percussion, French horn, and other instruments. He works in the broader jazz and classical traditions, performing with groups ranging from the Seattle Modern Orchestra to Wayne Horvitz's Electric Circus, and with artists such as steel pan virtuoso Ray Holman, Eyvind Kang, Ali Birra, Vinny Golia, Lori Goldston, Christian Asplund, Nels Cline, and James Falzone. His studies with Asante palmwine guitarist Koo Nimo led him to Ghana in 2017; he has worked with Koo Nimo's son Yaw Amponsah in the traditional Asante drumming group Anokye Agofomma for more than twenty years. Greg teaches at the Cornish College of the Arts and at Cascadia College.
"The Simultonality Endeavor"
In each of these improvised pieces, I play two different instruments at the same time. Since many of these pairs contain instruments with different playing techniques and pitch ordering methods, I was interested to see how my attention as an improviser would be focused and/or divided. I owe a debt of gratitude for inspiring my approach here to multi-instrumentalists Jerome Cooper (especially his 1979 album "The Unpredictability Of Predictability") and Roscoe Mitchell.
Each instrument pairing is dedicated to spirits who left us lately but way too soon:
G bugle and drum set (to Patrick Campbell); French horn and resonant metals (to Paul Taub); kpanlogo drum and drum set (to Bill Withers); vibraphone and cornet (to Bill Smith); French horn and toy electric saxophone (to Mohammed Shaibu); orchestra chimes and vibraphone (to George Floyd and Breonna Taylor, and many thousands gone).
(00:00) Chimes & Vibraphone 1
(03:18) Bugle & Drum Set 1
(05:22) French Horn & Toy Electric Sax
(09:32) Chimes & Vibraphone 2
(14:11) Kpanlogo Drum & Drum Set
(17:56) Bugle & Drum Set 2
(19:07) Chimes & Vibraphone 3
(25:57) Cornet & Vibraphone
(30:19) French Horn & Resonant Metals

With the Chapel closed indefinitely due to the COVID-19 pandemic, the Wayward Music Series moves from the concert hall to the living room. In place of our usual ten monthly concerts, Nonsequitur is commissioning ten Seattle artists each month to create a series of streaming audio sessions of previously unreleased material.