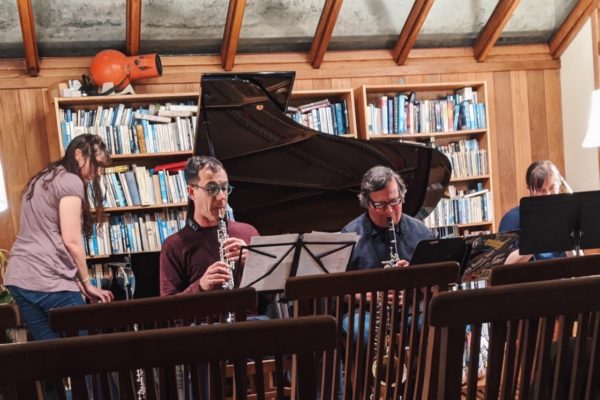 Haley Freedlund is a trombonist and vocalist, working primarily in free improvisation, jazz, and new works. She has been based in Seattle since 2011, where she has established herself as a multi-disciplinary powerhouse in the performing arts community through work as a musician, producer, curator, and organizer. She has been the lead curator for Racer Sessions since 2016, and co-leads the arts organization Table & Chairs.
These recordings are from a concert at Tom's Place in Berkeley, on March 10th, 2020. This was my first concert of improvised music in the Bay Area, coordinated by my friend Phillip Greenlief and tacked onto a brief trip to Davis to see friends perform the west coast premiere of Cecile McLorin Salvant's Ogresse. That trip is a very surreal memory to me now. Not just A Gig, but The Final Gig that I or any of us played, the night before WHO would declare a pandemic and seemingly everything would change at once. Listening back to these recordings feels like being older in my body and looking at a photo of myself when I was young, not recognizing the face without the age, another lifetime belonging to a different person entirely. In a matter of weeks I've felt my relationship to the trombone and how I approach playing music shift drastically in ways I never expected. I've realized how improvisation, for me, is a group activity. I'm curious to see how isolation continues to make me stretch and grow and change. In the meantime, it's still nice to remember playing with others, unfamiliar as it might feel now.
Haley Freedlund – Trombone, Voice
Phillip Greenlief – Tenor Saxophone
Kyle Bruckmann – Oboe
Evelyn Davis – Prepared Piano
Improvisation I
Improvisation II
Improvisation III
Ununisonorous (Kyle Bruckmann)
Our Dreams Are Our Second Lives (Evelyn Davis)
Carried (Haley Freedlund)
The States United (Phillip Greenlief)
With the Chapel closed indefinitely due to the COVID-19 pandemic, the Wayward Music Series moves from the concert hall to the living room. In place of our usual ten monthly concerts, Nonsequitur is commissioning ten Seattle artists each month to create a series of streaming audio sessions of previously unreleased material.