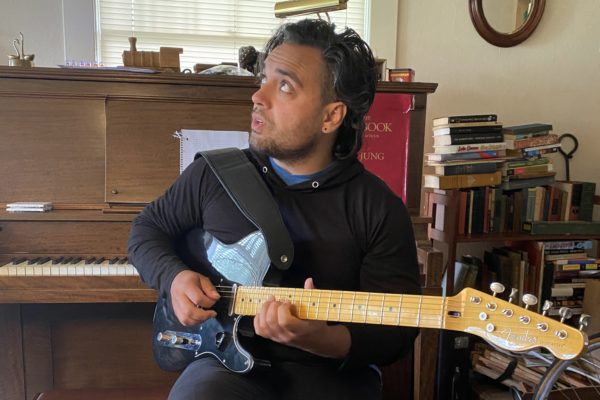 Michaud Savage is an American artist, born in Seattle, Washington. His work spans a variety of musical mediums, intrigued by the fault-lines of genre, medium, and contemporary society. Influences reach across early to contemporary classical, jazz, pop, tango, rock, blues, Latin folkloric musics, sound art, noise, and beyond.
"ACAB"
(00:00) WHITE BODIES TO THE FRONT
(08:30) THIS WAS PEACEFUL UNTIL YOU CAME
(14:05) THIS SHIT IS REAL PAIN
(20:50) EVERY DAY
(32:15) Peace Isn't Passive, It Is Active.
(39:21) Dear Black Man, written & performed by Christopher Lee
(43:48) The People's Assembly – Jesse Miller & Roxanne White
Michaud Savage: guitars, synthesizers, voice, arrangement, production
Lori Goldston: cello
Christopher Lee: poem
Jesse Miller & Roxanne White: speeches
I acknowledge that we are on the unceded ancestral lands of the Duwamish people. A people that are still here, continuing to honor and bring to light their ancient heritage.
These recordings were gathered by myself during the protests in Seattle which took place after the murder of George Floyd in Minneapolis by the on-duty Police Officer Derek Chauvin, with the assistance of officers J. Alexander Keung, Thomas Lane, and Tou Thao.
The poem by Christopher Lee was performed days before the emergence of CHOP, and the speeches were spoken during the People's Assembly by Jesse Miller and Roxanne White inside of CHOP. While all of these recordings are legally mine to use as they were made in a public gathering space, I was only able to contact Christopher Lee, who has allowed me to use this recording for this purpose.
The field recordings are by and large unabridged. I have chosen to remove a few audio issues, any potentially incriminating information, and to edit the speeches together, which were not successive to each other during the People's Assembly.
To the many voices who ring out in these recordings, who risked their safety, health, and their very lives by continuing to show up at these protests during a pandemic, I say thank you and stand with you in solidarity. Together we will end systemic oppression. Defund and abolish the police, abolish the carcel state, end White Supremacy and capitalism, and reinvest in the communities who have suffered most from these power structures.
To know more about how to ensure that Black Lives Matter here, visit Black Lives Matter Seattle-King County. For a more comprehensive list of demands from the Black community of Seattle, visit King County Equity Now. If you think the title of this collection, "ACAB," is a bit gauche, please try reading Confessions of a Former Bastard Cop. For more on direct action, check out Real Rent Duwamish. If you want to talk about racism, check out local author and (currently #3) New York Times bestseller Ijeoma Oluo's book, So You Want to Talk About Race. (White people, there is a discussion guide in the back of the paperback edition, also available here.)
With the Chapel closed indefinitely due to the COVID-19 pandemic, the Wayward Music Series moves from the concert hall to the living room. In place of our usual ten monthly concerts, Nonsequitur is commissioning ten Seattle artists each month to create a series of streaming audio sessions of previously unreleased material.