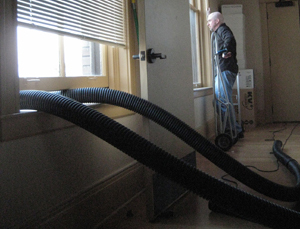 Steve Barsotti is a Seattle-based improviser, sound artist, instrument inventor and educator. He is active in several ongoing projects including the Seattle Phonographers Union, a collective that improvises in real time with unprocessed field recordings, and Mimeomeme, a record label that disseminates unusual sound art made by an eclectic collective of artists involved with a variety of unconventional techniques. He has been teaching for over 25 years at the college level (currently at Shoreline Community College) as well as presenting artists' lectures and workshops in various approaches to electronic music, sound art, and audio production techniques. Steve also does audio post production for Kazbar Media, a small media company primarily focusing on the work of his wife, Laila Kazmi, a video producer dedicated to telling the stories of the variety of people and cultures that make up the American experience. www.kazbar.org
https://soundcloud.com/steve-barsotti
I began this piece during the first month of the lockdown due to the pandemic. It contains recordings from my collection of spaces filled with people and activity; kids in the park, celebratory fans, market goers, children's music recitals, graduation ceremonies, park festivals and so on. I recorded these sounds over time when the spaces were filled with people, doing the things that people do in these spaces. During the lockdown, I returned to some of these spaces and recorded them again, but empty. The piece is also a reflection on the rising intensity felt across the nation during the Black Lives Matter protests. It serves as an audial analogy of our times and the rising social noise floor.
With the Chapel closed indefinitely due to the COVID-19 pandemic, the Wayward Music Series moves from the concert hall to the living room. In place of our usual ten monthly concerts, Nonsequitur is commissioning ten Seattle artists each month to create a series of streaming audio sessions of previously unreleased material.