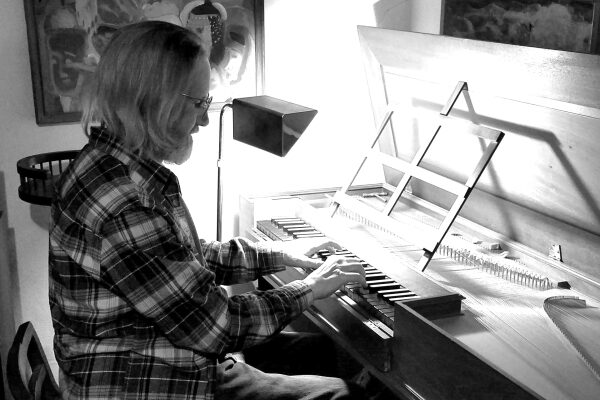 Remorselessly speculative composer/pianist/improvisor Keith Eisenbrey is a native of the Puget Sound area. He studied composition with Dell Wade, Ken Benshoof, John Rahn, and Benjamin Boretz. He is a cofounder of Banned Rehearsal, an ongoing argument in creative musical expression with over 1000 recorded improvisation sessions in the main sequence. His compositions center on solo keyboard, sacred song, and small ensembles. His listening journal is Now Music in New Albion.
16 Clavichord Improvisations, August 2020

The clavichord is a stringed keyboard instrument, dating back some 600 years. It is known for its quiet intimacy and sensitive touch and is possessed of a huge dynamic range that tops out at a thunderous mezzo piano. Since it doesn't project effectively in any but the smallest spaces I thought it a perfect choice for these our so sadly secluded days. I am playing a 5-octave double-strung unfretted Zuckermann instrument that my dad and I built from a kit in 1984-5. The 16 improvisations shared here were made on August 16 and 22 of this year. Where one ends and the next begins is not crucial.
With the Chapel closed indefinitely due to the COVID-19 pandemic, the Wayward Music Series moves from the concert hall to the living room. In place of our usual ten monthly concerts, Nonsequitur is commissioning ten Seattle artists each month to create a series of streaming audio sessions of previously unreleased material.