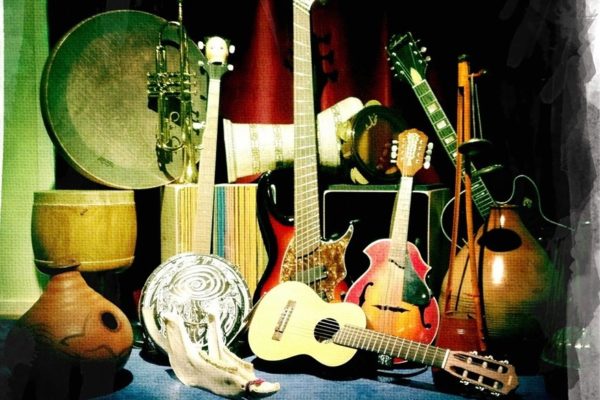 YESOD is a meeting of Middle Eastern and Middle Western musical influences where pure musical impulses flux between sound explorations and accessible improvisational hooks. Dynamic and bold percussion mix with intricate intertwining stringed instruments creating a foundation for voice, violin, clarinet, and other melodic instrumental experimentation. It will be a fantastic journey to the center of your heart mind and soul. Doors open at 7:30.
William Wolford (guitars, dan bau, trumpet, banjo, cümbüş, etc.) is a veteran recording artist, composer, sound designer and performer. His body of work crosses many genres from country to techno rock or from meditation music to movie soundtracks. Recently he is performing with West Seattle Soul, Yesod and his one man band, The One Man Bandit, while composing cutting edge meditation music.
Tige DeCoster (bass, percussion) has played bass professionally and taught music for the past twenty-five years. Currently, he is a member of the West Seattle Soul big band, and a member of Cuban son band Los Supersones.Tige is a published poet, recipient of the 2016 Joan Grayston Poetry Prize, and a 2009 Fulbright scholar.
Amy Denio composes for modern dance, film, theater and TV. She has a four-octave vocal range and plays guitar, bass, alto sax, clarinet and accordion. She has written more than 400 works and has produced over 50 recordings solo and in collaboration with artists worldwide. She operates her own recording studio, record label and publishing company, Spoot Music.
Ahmad Yousefbeigi is an inspired and sought-after percusionist/vocalist from Kurdistan. Ahmad's versatility, love of cultural exchange and collaboration has co-founded Yesod in 2010 an acoustic, avant-garde, improvisational collaboration. In 2017 he became a member of the band The Crown and released their first vinyl record in 2018.